Life Coaching School Review PCCI

Professional Christian Coaching Institute  
The best way to make your life coach career a reality is to start with the very best in training. PCCI sets itself apart from many coaching programs because it is a full service school. You get far more than one brief coaching class.
Ideal for: People who want to get into Christian coaching at a high-level of professionalism.
Best Features: Many options of live classes taught by IFC accredited coaches for both general life coaching and leadership coaching.
Class structure: PCCI classes range from 10 to 40 hours total, meeting weekly via Zoom for 60 to 90 minutes per class. Each class requires anywhere from 1 to 3 textbooks. In additional to the weekly class, there are assigned readings and practice coaching sessions with a classmate. Those sessions are observed by a third classmate who takes note of what was done well and areas for growth.
One of the things I found most encouraging was the level of support by your peers. Peer coaching sessions were relaxed, fun, uplifting and extremely beneficial to your learning process.
If you are concerned about being judged for your lack of experience as a coach, don't be! Everyone in the class is at pretty much the same level. The programs are specifically designed to build your skills, one step at a time. Most people in the first core class, Elements of Life Coaching, have never formally coached anyone.
If you have the heart of a coach, you will quickly find the coaching process is a natural fit for who you are and the way you already interact with people. With the encouragement of your peer coaching group, you will quickly become comfortable and confident with your coaching skills.
Access to support: PCCI is taught in live online classes by instructors who have proven expertise in various specialties. Each instructor is available by email for help with any questions you may have between classes.
Courses offered
Essentials of Life Coaching
Coaching Skills Development
Coaching Skills Mastery
Ethics
Coaching for Spiritual Formation
Leadership coaching
Group coaching
Executive and Work Team coaching
Coaching for Emotional Intelligence
Cultural diversity
Pre-marital and marriage coaching
Two more very important courses, or Why PCCI is the Best Path for Your Success
These two courses deserve special mention. Very few life coaching programs offer this level of business building help. There are some programs which offer you some social media graphics, a "certified life coach" badge to put on your website and some done-for-you forms, but they don't tell you exactly how to run a business.
PCCI focus' on teaching students how to have a business mindset.
The Successful Coach Very important for successfully establishing the business end of coaching, taught by the founder of PCCI, Chris McCluskey
Marketing Made Easy This is the ONE area most coaches struggle in and this course, combined with The Successful Coach course can make the difference between success and quitting in frustration.
To obtain certification:
Certificate of completion for 4 core classes: Essentials ($2k or $165/mo), Coaching Skills Development ($1250 or $115/mo), Coaching Skills Mastery ($1250 or $115/mo), and Ethics ($500 or $75/mo)
Mentor Coaching with one of the PCC or MCC qualified mentors (starts at $750)
50 Hours of paid client coaching
MP3 recording of a client session
Full transcript of MP3 recording
Cost to take the minimum four core classes is around $5,000, slightly less if you sign up for a bundle of classes. Scholarships are occasionally available, you can learn about them from one of the academic advisors.
Highly recommended, but not required is the Successful Coach class which teaches you how to actually run a coaching business.
Pros–
This was my favorite program. As a student you have access to an advisor who can help you navigate all the requirements and determine the best path for your needs. There is no cost to connect with an advisor. They will take time with you by email or phone call to explain the programs and options. I found them to be supportive, encouraging and helpful with NO sales pressure.
The staff is diverse and highly qualified professionals, many with decades of experience in coaching.
Private, active, Facebook group with hundreds of students of all levels as well as input from PCCI staff and instructors
Real live coaching practice in cohort groups with other students, plus feedback from the instructor to help you hone your skills and identify your areas for growth.
Regular monthly Power Lunch calls for current and past students at no extra cost. These are 60 min. training calls on a wide variety of coaching topics like:
How to market your business
Helping clients through difficult seasons
Overcoming Distractions
Dreaming and goal setting for your business
Cons –
Cost – The cost is mid – range compared to many programs you might see advertised on Facebook or other social media. The difference is PCCI is a full training school, not just one course or DIY program.
Most complete programs that give you the course hours needed to obtain ICF certification are in this same price range.
When comparing costs of life coaching training, be sure to compare apples to apples. Is that $39 DIY video class going to prepare you with the in-depth skills and practice you need to confidently start your own coaching business? Does it provide live instructors, opportunities to practice what you learn and feedback on your coaching skills?
Time- Because of the depth and breadth of professional level training, the time to complete the first level of PCCI certification is a bit longer than most programs. Plan on at least a year to reach certification. However, you can start coaching clients immediately.
Is Professional Christian Coaching Institute right for you? How can you tell before you invest?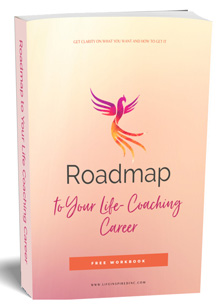 Design your ideal life coaching career first, then finding the coaching program that fits your needs is simple. Download this free Roadmap to Your Life Coaching Career