Free* Wheel of Life Template
The Wheel of life template will help your client clarify what is most important and start to identify where they can focus on improving. Use this free Wheel of Life Template.
It's not about finding balance! Balance, or the ability to give equal time to every priority, every week, is a myth. You can read more about life balance here and I encourage you to share this article with clients who are caught in the stress and bondage of trying to achieve this mythical sense of balance.
When to use – This is a fabulous tool to use early in the coaching relationship. The most productive coaching sessions start with a very clearly defined objective. If a client can't articulate what they need to change, it's almost impossible to have an effective coaching session.
Coaching clients are typically people who want to rise above average and live to their fullest potential. Most of the time they can clearly identify what they don't want in their life but they are less clear about what might be holding them back. Using the wheel of life exercise, clients can gain a visual representation of where life is out of balance.
Instructions – Your client is welcome to change the labels. Ideally the sections of the wheel should represent the top 8 areas of life of most value to the client. They could add things like:
Connections,
Spiritual life,
Energy,
Relationships,
Boundaries.
You could have them do a "Values" worksheet first and put their top 8 values on the sections of the wheel.
If your client is more logically minded, have them assign a rating number to each category. Use 1-10 with 1 being completely dissatisfied up to 10 being totally satisfied with that area. If visuals and color are more appealing, use a variety of colored pencils. Have them color in each section of the wheel as if they were filling up a gas tank – How "full" of satisfaction is that area of life?
Example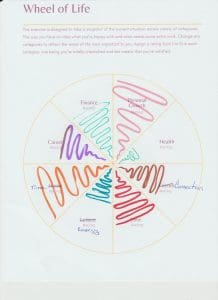 Our Website may contain links to affiliate websites. When and if you click on an affiliate link and make a purchase through that link, we will receive commission for any purchases made by you on the affiliate website using such links. Purchases you make through our affiliate links are at no additional cost to you. This means you will pay the same price for the purchase as everyone else.
Coaching Questions
These will give you valuable information for the direction of your coaching sessions.
What stands out to you as you look at this visual representation of your most important areas of life?
Which area(s) are you most motivated to work on?
Which area can make the most difference if you put effort there?
Are those neglected areas really important after all? If they have identified an area of life that is important to them, yet aren't investing any time toward it, this question opens the door to revealing conversations. You can use powerful questioning and help the client uncover the reasons why they might be neglecting that area.
How to work with the client after they do the Wheel of Life Assessment
Let's say their answer is their health. Ask "what would it take to get that 4 rating on your health to just a 5?" Help them focus on small, manageable steps that can take today, rather than the huge goal of what they need to do to get to a 10.
Ask your client to look at the areas they marked as full or assigned a rating above 7. What principles or practices help them reach that level of satisfaction? What ways can they apply those same principles or practices to the area they identified as important to work on?
Create a long term client relationship:
Make a copy of their Wheel of Life exercise for your files and bring it back out for an update after 6 sessions. Have your client re-assess the areas and see what has changed. This is a fabulous way to validate the effectiveness of their coaching experience.
Re-establish what the next most important area is for them to work on and set the stage for the next 3 months of coaching. Statistically a large number of clients will quit after 6 to 8 sessions. Using this practice of reassessing progress and setting new goals will help keep them encouraged, motivated and engaged in the coaching process so they become a long term, raving fan who regularly recommends you to their friends!
More free templates and worksheets are here